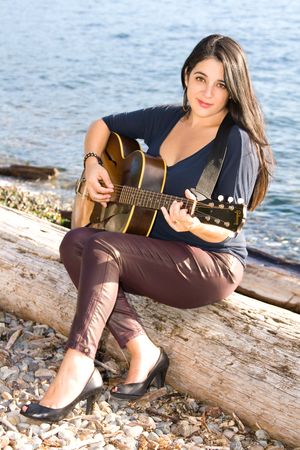 In this week's episode, we hear from Seattle-based Jewish songwriter, Chava Mirel and her new song, "Stand Up."  This song is part of the Religious Action Center of the Union for Reform Judaism's brand new collection of social justice songs titled "Together As One: New Songs of Social Justice" which you can download here.  All proceeds from the sale of this collection will benefit The RAC.  
Chava Mirel is a singer, composer and multi-instrumentalist who combines rich, luxurious vocals with deep pocket rhythms to bringing a new approach to Jewish music. With themes of gratitude, self-acceptance, balance and responsibility for each other, Chava's songs bring comfort and uplift the spirit. 
As an award-winning Jewish musician, Chava has worked for decades as an educator and prayer leader in Reform, Conservative and independent congregations throughout areas of New York, Los Angeles and Seattle. She has recorded two full-length albums under her own name, and also writes and records in a duo project, Josh and Chava, with musical partner Josh Niehaus. 
Chava now tours all over North America as an Artist-In-Residence. She was recently selected as a fellow by Joey Weisenberg's Rising Song Institute. Her songs are featured on the URJ "Together As One" Social Justice Music Project album, the Behrman House "Hebrew in Harmony" curriculum, and the "Gift of Music" collection curated by Jewish Rock Radio. In between performing, composing and leading worship, Chava enjoys life in the beautiful Pacific Northwest with her sweet husband and son, both drummers.
Chava's YouTube Page  
Chava's Spotify  
Chava's Facebook 
Chava's Website