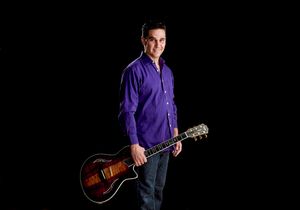 On this week's episode, I welcome Phoenix based Jewish songwriter, and fellow Jumbo (Tufts Alum), Todd Herzog to talk about his brand new composition "Returning to Who I Am."
Todd Herzog is an artist who takes the raw material of life experiences and creates soulful, spiritual, acoustic pop music along the lines of John Mayer, Jason Mraz, and Marc Cohn. His mission is to use music to open the hearts of his listeners to love, wisdom and spirituality. 
The music industry has taken notice of Todd's talents. He has worked with some of the top songwriters and artists in the world, including Burt Bacharach, Tonio K, Dave Koz and Michael Lington. With his most recent release, Something to Believe In, Todd returns to his singer/songwriter roots and includes moving songs of personal revelation alongside songs of shared humanity. Todd's Bridging the Gap CD won the award for "Best Jewish Album" in the Just Plain Folks Music Awards. His music and voice have been featured in television and film. His children's album, Everyday Blessings, was distributed nationwide by the PJ Library. He is the creator of the Desert Gathering Jewish Music Fest, which has now become a staple of the Phoenix arts and cultural calendar. Todd has performed at URJ Biennials, CAJE, Hava Nashira, Unity and New Thought churches as well as corporate events and various other spiritual and secular venues. He has been an instructor at Songleader Boot Camp alongside fellow Jewish educator/performers Rick Recht and Sheldon Low and has been an Artist-in-Residence for Vocal Music at the JCC Maccabi ArtsFest. He has been profiled on NBC's Arizona Midday Show, in AZ Jewish Life Magazine, The Jewish News, in Chosen magazine and many other online and print media outlets. He travels around the country and around the world, captivating audiences of all ages.
Todd's YouTube Page   
Todd's Spotify   
Todd's Facebook  
Todd's Website
This week's episode was brought to you by Bandzoogle which makes it easy to build a stunning website for your music in minutes.  Click here to try it free for 30 days and get 15% off the first year of your subscription.