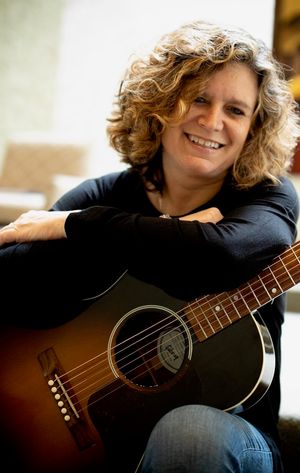 This week, I welcome the massively talented Beth Schafer all the way from Atlanta to Jewish Songwriter and we talk about her composition "History Will Ask." 
As always, you can listen to all of the compositions from this season on the Jewish Songwriter Playlist on YouTube and Spotify. 
Beth Schafer continues to redefine Jewish music by combining masterful songwriting with sensitivity to liturgy and unique insight toward text. She specializes in music for Torah-minded adults looking for an extension to their Jewish lives through music. What makes her music special is her attention to the universal themes that not only define Judaism, but many other faiths as well.
Her 7 CDs of original Jewish music have become favorites in synagogues as well as churches and spiritual radio stations of many denominations. The title song to her CD Build That Bridge, was written and recorded with "Still the One" singer, Larry Hoppen, and was released in 2007. In 2009 she released her first acoustic rock album, Raise It Up Bring It Down-a combination of her secular and spiritual writing which was met with critical acclaim. 
In 2015, Beth became the Bunzl Family Cantorial Chair at Temple Sinai in Atlanta. There, she fuses her love of liturgy and music production skills into creating dynamic worship experiences for the 1400+ family, URJ flagship congregation. 
Beth loves being a mom to her daughters, Hannah and Sarah,  and her dog, Chester.
Beth's YouTube Page 
Beth's Spotify 
Beth's Facebook
Beth's Website 
This week's episode was brought to you by Bandzoogle which makes it easy to build a stunning website for your music in minutes.  Click here to try it free for 30 days and get 15% off the first year of your subscription.