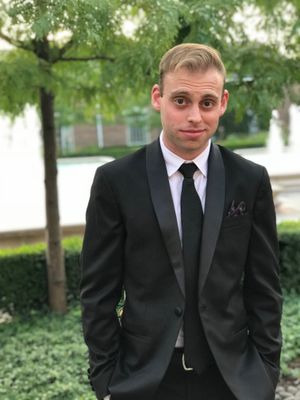 My next guest is a fellow New Yorker and one of the massively talented fresh faces bursting onto the Jewish Songwriter scene.  Jacob "Spike" Kraus and I talk about his journey in the new music industry and his poppy new tune "You Will Find Me."
As always, you can listen to all of the compositions from this season on the Jewish Songwriter Playlist on YouTube and Spotify.
Jacob "Spike" Kraus is a singer/songwriter, educator & innovator from Boston, Ma. He has released two studio albums of original Jewish music: "Shake Off The Dust" (2014) & "Cornerstones" (2017). Twenty-seven years old and based out of New York, NY, Jacob serves as the Music Teacher for Beit Rabban Day School. He has been song leading for over a decade at synagogues, day schools, and summer camps, serving as Head Songleader at both the URJ Eisner Camp and the URJ Kutz Camp for several summers. He graduated from Muhlenberg College in the spring of 2013 with a degree in Music Performance. His music has been included in the cantorial curriculum of Hebrew Union College – Jewish Institute of Religion, and is featured by Jewish Rock Radio & PJ Library. A member of the Jewish A Cappella group Six13, JSK believes in music's power as a community-builder. He tours the country singing with multi-generational communities and using Jewish music as a tool to educate and engage the next generation of Jews. Find out more about Jacob and his music at www.jacobspikekraus.com.
Spike's YouTube Page 
Spike's Spotify 
Spike's Facebook 
Spike's Website 
This week's episode was brought to you by Bandzoogle which makes it easy to build a stunning website for your music in minutes.  Click here to try it free for 30 days and get 15% off the first year of your subscription.