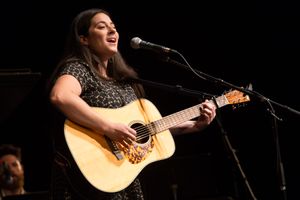 The Season 2 opening episode of Jewish Songwriter included a hilarious and heartwarming story from this week's guest, Elana Arian, and her special connection and encounters with Debbie Friedman.  We finally get to share the rest of this amazing conversation and share Elana's "Yih'yu L'ratzon" as well as the story of it's creation.  Spoiler Alert:  Elana was a new mother with 10 years of experience as a successful touring secular singer/songwriter but this song was not only her first Jewish composition, but the first composition that came to her in complete form.  
Listen to "Yih'yu L'ratzon" and all of the compositions from this season of Jewish Songwriter on the official Jewish Songwriter Playlist on YouTube and Spotify. 
Elana Arian is one of the leading voices in contemporary Jewish music. A composer, multi-instrumentalist, and recording artist, Elana inspires communities across the country with her soulful songwriting and spirit. She recently released her third album of original music - A Spark of Light – a collaboration with Grammy-winning producer, Ben Wisch. Elana has served on the faculty of both Shirei Chagiga in London and the Hebrew Union College - Jewish Institute of Religion in New York, working as a teaching artist in the Debbie Friedman School of Sacred Music. In addition to her work as a guest Artist in Residence for communities across the United States, Elana worked in the Friday worship ensemble at Central Synagogue for 13 years. She has performed at Carnegie Hall, Lincoln Center, Tanglewood, and perhaps most memorably, five separate appearances at the (Obama) White House.
Elana's YouTube Page 
Elana's Spotify 
Elana's Facebook 
Elana's Website 
This week's episode was brought to you by Bandzoogle which makes it easy to build a stunning website for your music in minutes.  Click here to try it free for 30 days and get 15% off the first year of your subscription.